Join us at Kilven Kuoro!
Do You wish to sing in a choir that has goals and a large repertoire in vocal music and still thinks it's important to have fun singing? Join us!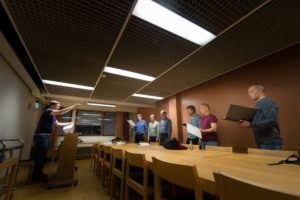 With us you get
to sing a large range of vocal music: old music, classic vocal music pieces both Finnish and around the world, forgotten gems and novelties of contemporary music – sacred, secular and rhythmic
to participate in interesting projects
to perform in magnificent venues
to travel with us both in Finland and abroad
to rehearse goal-orientedly in good company
help for practising independently: we offer a computer application so you can practice without any instruments
to learn a lot about singing, in group and by yourself, and lots of experience performing
to have a good time, sing, laugh and rejoice
We expect you to
come to rehearsals regurlarly: We practise on Tuesdays at Alppila church (Kotkankatu 2) at 18 – 21. In addition to our weekly rehearsals we have weekend-rehearsals once per term, both in spring and autumn. Our rehearsals are held in Finnish.
take part in concerts and other engagements
take responsibility for your harmony
participate in the practical organization of the choir. The choir board bears the main responsibility but every singer's input is valuable in various tasks.
At the audition
you sing a piece you can choose yourself
we

test your pitch, register, and prima vista skills

.
Right now we are especially looking for high sopranos and baritones, but other vocal ranges are welcomed to audition too.
Sign up for an audition by contacting our conductor Hanna Remes via e-mail: hanna.remes(a)evl.fi.